WOMEN'S MONTH ~ Dear Rae X Atlas Label
Posted by KARIN MATTHEE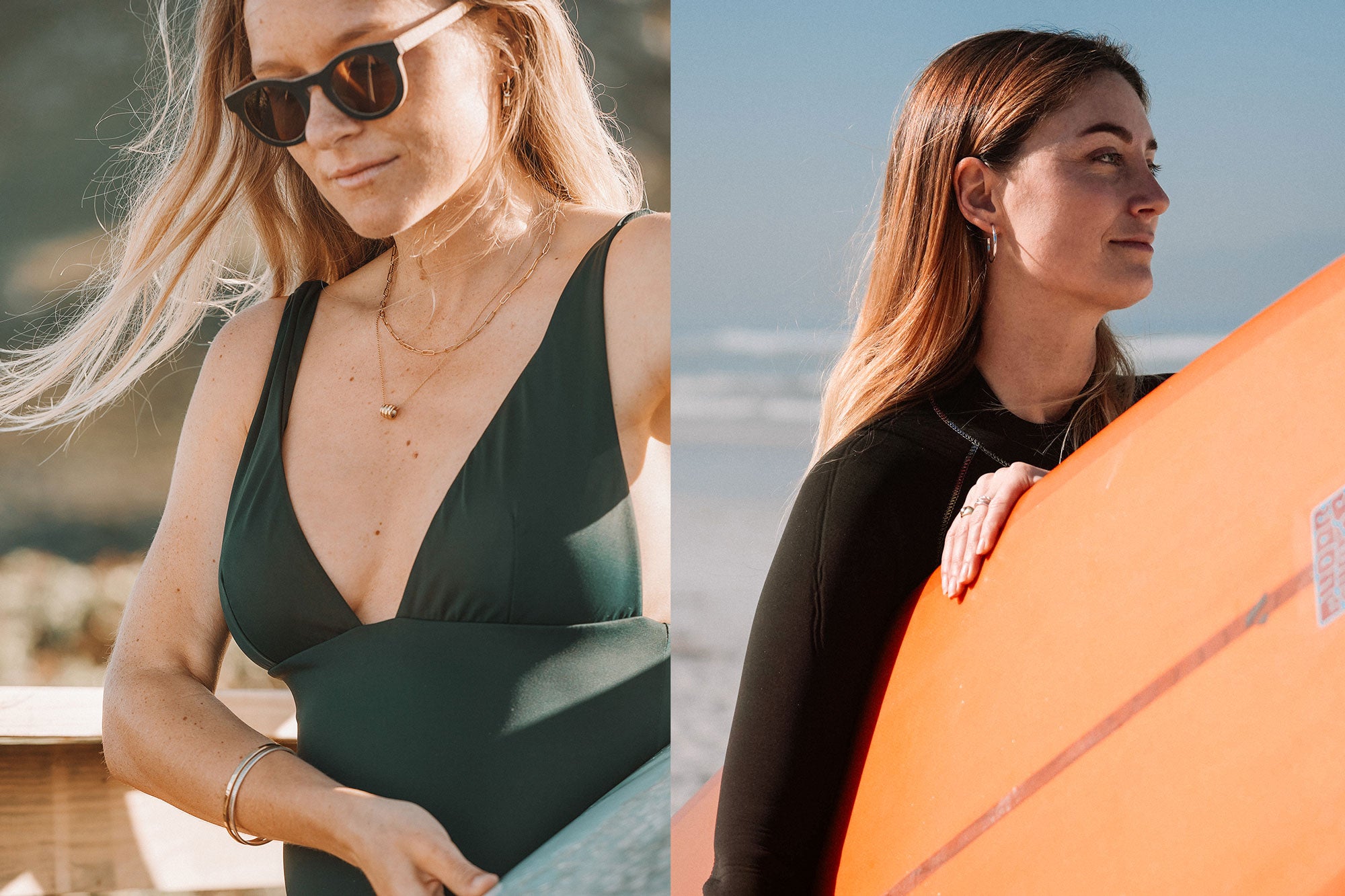 As a female-founded and -run business in South Africa, we have always looked to other woman-run businesses as inspiration and allies. Over the years we have partnered with some truly phenomenal women through our 'Females to Follow' campaign, collaborations with other female-led brands, and through working with incredible female photographers and stylists.
Our predominantly female team (special mention to the wonderful men on our team, we can't imagine Dear Rae without them) has got to know some incredible, like-minded women through the years. Over the last two years though, as we trudged through a global pandemic, we had to look inward. Our partnerships slowed down, and a lot of focus became about getting our team through Covid and working to keep our doors open. 
As we begin to look up again, we're looking around and noticing an array of beautiful brands. Some that made it through the pandemic, some that had to pivot in a new direction, and others that have started as a result of it. A few months ago we met with Cristina Rovere from Atlas Label. We chatted about our respective brands and although our products are so vastly different, we shared similar values, achievements, and aspirations. 
This Women's Month we are collaborating with Atlas Label, a swimwear and wetsuit brand who are creating functional and timeless pieces consciously, slowly, and like no one else in South Africa.
Continue reading for our interview with our founder, Karin Rae, and owner and founder of Atlas Label, Cristina.
Cristina, for someone who has never heard about Atlas - what would you want them to know about your brand? 
I would like for them to know that we make products that are relevant beyond just surfing, to allow everyone to swim or express themselves freely with confidence. We don't just make products for women, we also make products for men. We use alternative fabrics with incredible technical qualities that allow our products to have a long-lasting life with proper care. These products have been tested over many years before they are released to the buyer and we're beyond confident in their ability. Whilst our primary focus has always been surfing related, we have expanded this to a much broader category of water-lovers.
What is the best piece of advice you have received in your career?
Karin: If you don't look after yourself you can't look after your business.
I spent the first few years of starting Dear Rae neglecting my own well being in order to give more and more to my business. After lots of pain and being completely run down, I realised the importance of looking after myself in order to allow Dear Rae to grow sustainably in the future. This meant making time for things that brought me joy and filled up my cup. Someone wise once said: I work to live, I don't live to work.
 
Cristina: Remember to have fun.
The to-do list always feels endless, and making time to just relax feels like a guilt trip sometimes. Brand building takes an immense amount of due diligence, perseverance, and patience. Often, we forget we need to take time to recharge as well. I am still learning this!
What advice would you give to a female entrepreneur starting out in business in Cape Town? 
Karin: Start something that feels true to you and makes you come alive. 
We are so often brainwashed by social media and various trends that we forget who we truly are. Only when you create from an authentic and honest space will you create something that will stand the test of time. Starting a business takes a lot of determination and courage, if you are true to yourself from the beginning it will carry you through the tough times.
 
Cristina: To always lead with grace. 
When things get tough, and believe me in entrepreneurship tough can be an understatement, keeping your head on and keeping your priorities straight is important. We have to deal with a lot of different types of people, some friendlier than others. No matter what you are up against or how others behave, if you lead with grace you will never let yourself down.
Cristina, what inspired you to start Atlas? 
I have been fortunate enough to have travelled and lived in many places in my life, and surfing became a passion of mine just over a decade ago. On my travels I came across Japanese neoprene and went to great lengths to get my hands on a custom made wetsuit. It was easily the best, and at the time the most expensive, purchase I had made. The fit, the comfort and the technical abilities it possessed were unmatched. I realised many women had issues finding a wetsuit that fit them properly and kept them warm, and then realised, to my surprise, that men often felt the same way and so I knew I had to share what I had found.
Swimwear was a natural progression from wetsuits – I've often struggled to find swimwear that fits just right so the next step was to simply make my own! On top of this, in many parts of the world a wetsuit isn't needed to surf. So we launched a small line of swimwear to start and with it noticed that many non-surfers were also buying our products – it's this mix of people that form a part of our inspiring community.
As an entrepreneur in South Africa, do you feel your respective industries are male dominated? And do you ever feel as though you aren't taken seriously as a female? 
Karin: The older jewellery industry was definitely male dominated and there are still elements of that. It took me a few years to gain respect from some of my suppliers as a young female. Things are changing quickly and there are now many female entrepreneurs making a big impact in the jewellery industry, it's great to see.
 
Cristina: Many of the local businesses I work with are run by females, and they are an inspiration. Humble women who run a tight ship that no one really knows about, working behind the scenes to make businesses like Atlas great. Of course the industry I am in on the surfing side is generally male-dominated, but then again I am a woman finding my own path in what I love to do so I feel like it cannot really be compared. I have thankfully always been taken seriously, but I have also had to work very hard to make sure I am always working with the right people. I like to think your ethics shape you, not your gender or the gender of the industry you decide to work in.
What are you enjoying about local design in Cape Town at the moment? 
Karin: I think since covid there has been even less support towards local design, many design platforms have closed and there has been a huge lack of financial support. It has been so much harder to be a local designer and to be creative during this time. It has however been very exciting to see a few new designers popping up and setting up platforms for themselves, despite the difficult climate. I think we will see so much innovation once things have settled.
 
Cristina: I have always really appreciated the creativity we see so consistently everywhere. There are many brands and businesses out there who think about a product or service and make it happen. Cape Town is a vibrant place, and I love seeing it reflected in the way local businesses create.

Both Dear Rae and Atlas Label as brands value quality and longevity over fast fashion. Firstly, what guides these values? And secondly, what have been the challenges with following through with these values? 
Karin: I have always tried to create products that stand the test of time and therefore are more sustainable. I chose to do this by only working in solid metals, this has been a value that I have stuck to since day one. Making pieces in solid gold is far more expensive and has been tricky to maintain in a space where people have less money. My motto is buy less and keep it forever. I really try to pass this message on as buying solid gold really is an investment and can be passed onto generations to follow. I also try to create pieces with a timeless quality that can be worn everyday and dressed up or down by the wearer, this adds to the sustainability of our products and allows the wearer to hopefully gain more joy from our products.
 
Cristina: Firstly, I think respect for what you own and the reason why you own it is really important. If you feel you need a product, it goes without saying that you would want it to last. We try to make designs with that longevity in mind, always. The biggest challenge I have been faced with has been trying to find locally made sustainable fabrics, which has been a near impossible task. What we cannot get here, we source overseas after a long practice of due diligence. I have spent a considerable amount of time researching and developing our ranges to find the best fabrics with the correct technical requirements and minimum order quantities that make sustainable sense. It has taken me over two years of research on each product we make, making sure that I am always considerate of the choices we take.
What are some local brands you currently have your eye on? 
Karin: Mama Alles and her lightweight hiking/adventure meals, the handwoven textiles from Crosspolynations, and Beagle + Basset's botanically dyed pieces. 
 
Cristina: Jade Paton's ceramics, Thalia Strates' bags, and I have an ongoing obsession with House of Gozdawa's candles. When it comes to surf brands, I am a huge fan of Good For You Fin Co., they hand make incredible fins for surfboards.
Keep an eye on our socials during the month of August as we highlight these two power female entrepreneurs - and announce an exciting giveaway you won't want to miss out on!