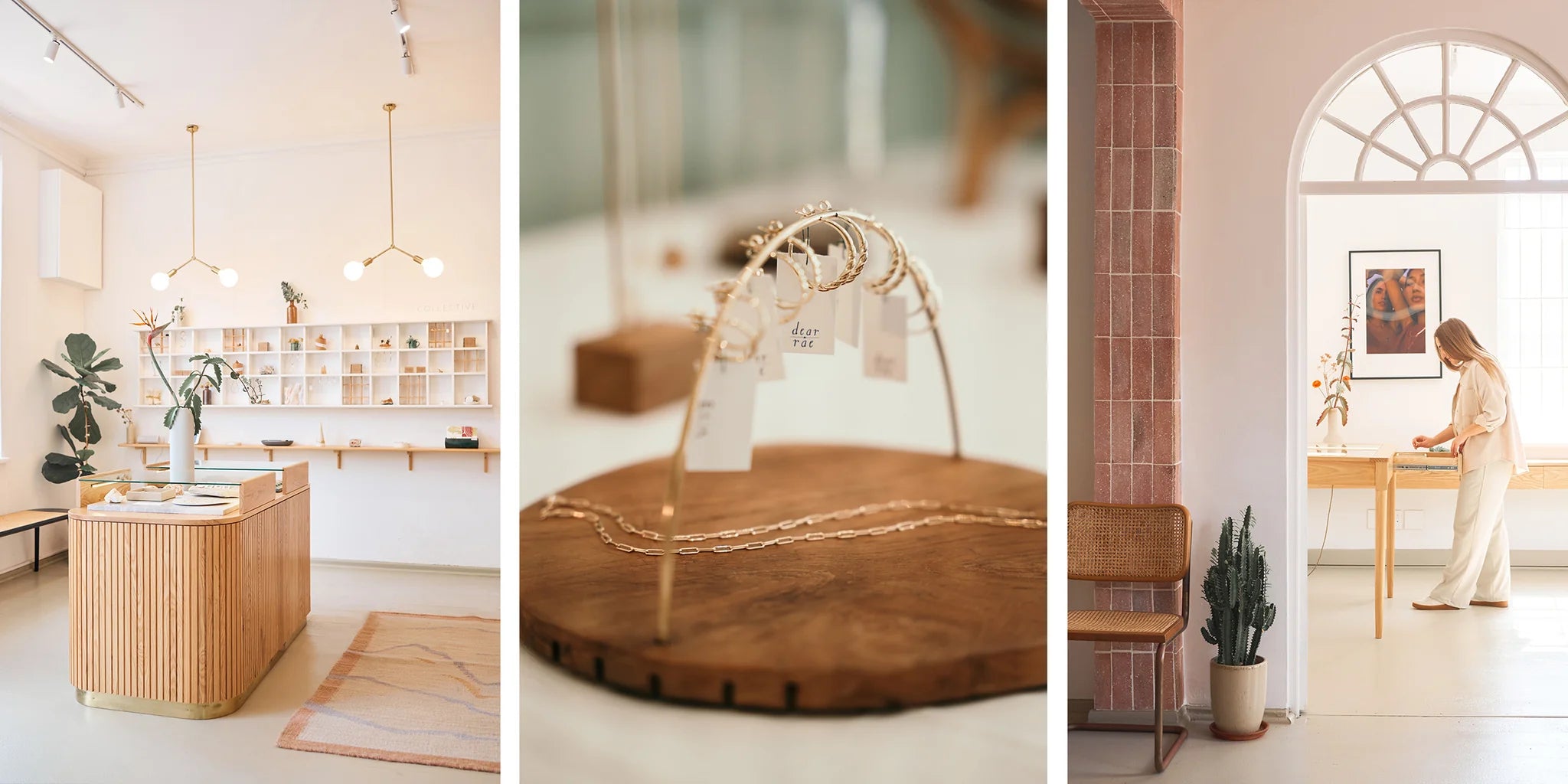 Where You Will Find Us
Ashyaa
~ Souq Al Shanasiyah, Sharjah, UAE 
164 BREE STREET, CAPE TOWN
REGULAR HOURS:
Visit our studio at 164 Bree Street, Cape Town.
Mon - Fri 09h00am - 16h00pm, Sat - 10h00am - 14h00pm
Public Holidays - Closed
Surrounded by like-minded creative businesses and local brands - including an array of coffee shops and favourite local hangouts - it has been the perfect fit for us as we establish our flagship store and studio, in the heart of Cape Town. Should you ever find yourself visiting our city, you'll spot our soft pink building on the corner of Bree - complete with a wide sweeping terrace and views of Table Mountain where you can relax and take in the scenery, while enjoying a cup of coffee.
We wanted the space to feel inviting and as if you were being welcomed into someone's home. Our aesthetic is clean, bright and fresh. And the space is sprinkled with local treasures as well as those from lands far away, including ceramics, decor and home living pieces - some of which are available to purchase. We obviously have a strong focus on our signature handcrafted jewellery collections, which are artfully displayed throughout. We have nurtured this retail space to reflect the ease and accessibility of our brand, and our passion for craftsmanship and design.
The space also hosts a custom design lounge for private consultations with our designers, an office, and the workshop where the magic happens. Dear Rae employs 16 staff members with a strong sense of mentorship focused on uplifting and growing each person's career path within the business.
DEAR RAE WORLD:
In 2020 we decided to extend our brand offering to a global audience with the launch of DEAR RAE WORLD, our worldwide online store. Our global headquarters are in the UK where we have established a small local team to fulfil our international orders.⁠
BECOME A STOCKIST
We currently already have two international stockists and we are always on the lookout for new businesses to collaborate with to hold our stock in the international market. Contact us at holly@dearrae.com for any international stockist inquiries.