OUR SUSTAINABILITY AND THE NGO'S WE SUPPORT
Posted by KARIN MATTHEE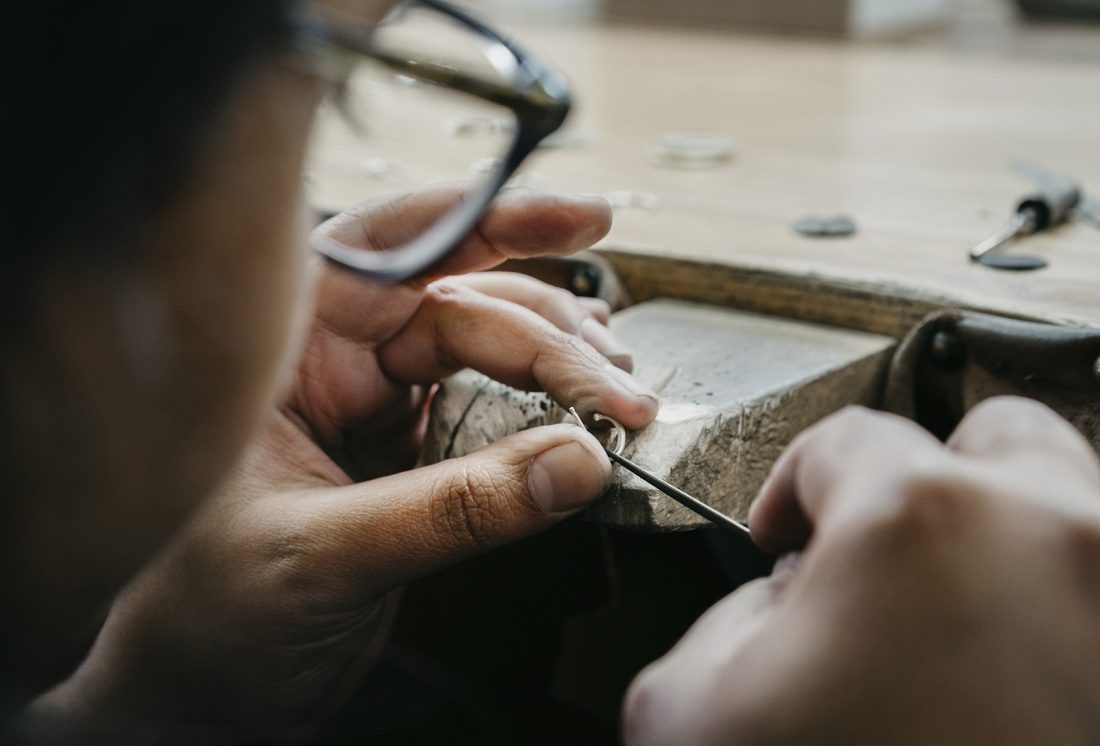 At Dear Rae, we've always had a strong emphasis on creating and producing consciously, and we are committed to working as sustainably as possible within our business.
First and foremost, we are well aware of the consequences that mineral mining has on the ecology. We therefore take meticulous care to ensure that the diamonds we deal with are conflict-free and comply with the Kimberley Process. All stones are certified through the leading gem certifiers of the world, including GIA, EGL and DIA.
Secondly, we take great care to recycle and refine all our metals. We capture all the dust and offcuts in the bench skins which we then send to the refinery for processing. We even go as far as to capture any old sandpaper and vacuum cleaner bags that may contain metal dust – every particle counts! Every little piece is refined where possible to avoid waste and encourage recycling.
We do not plate any of our metals and they do not contain any trace of nickel. We absolutely love the idea of recycling diamonds and gold, and encourage our customers to bring us their old or outdated jewels to be reset or melted down. The great thing about gold is that it can be reused repeatedly and its quality and integrity will not be influenced. All of our metals are also mined locally.
Thirdly, we do not use any harsh chemicals that cannot be disposed of normally and safely. In both our studio and workshop, we use local biodegradable cleaning products called Green Bee Biodegradables. All our packaging is locally made and can be recycled or reused.
Last, but certainly not least, we are cognisant of the fact that our planet is demanding collective collaboration for a more sustainable future. To do our part within our immediate communities, Dear Rae has pledged to donate 5% of all profits from every collection launched to a local establishment or initiative that exists to create a better tomorrow for all.
I AM WATER
I AM WATER believes in ocean conservation through transformative ocean experience.
Their mission is to ignite a movement of blue minds across the planet, to facilitate physical and emotional connections to the aquatic environment, to build understanding of the interdependence of healthy humans and healthy oceans, and to influence behaviours to protect our global seas.
They are especially passionate about working with underprivileged coastal communities where, despite living within walking distance of the shoreline, they often find young people who have never seen the world just beneath the waves. 5% of all profits from the 'Ode to the Ocean' collection goes to I AM WATER.
(Images credit: Danielle Davenport)
THE UMTHUNZI FARMING COMMUNITY
The Umthunzi Farming Community creates empowering economic opportunities for small scale farmers. They have a strong vision to ensure a food system where these farmers are key contributors – resulting in nourishing food, job creation and healthy prosperous communities.
With a main objective to support capacity building, sales and logistics, they help the farmers to distribute #vegwithanimpact across Cape Town. Their values focus on empowerment, transparency of business practices, and community. 5% of all profits from the 'of Earth' collection goes to the Umthunzi Farming Community.
(Image credit: Honest Photography)
BREADLINE AFRICA
When a child's imagination is unlocked, possibilities are opened up – allowing them to choose a path for their own future. For over 27 years, Breadline Africa has enabled this journey by providing initiatives and infrastructure to support childhood development in Southern Africa through early childhood education.
Many South African children do not have adequate spaces to learn, so, by converting shipping containers into classrooms, libraries, kitchens and toilet units, they provide thousands of children with the opportunity to escape poverty through education.
Breadline Africa's primary goal is to not only help children do better in school by ensuring that they have safer spaces to learn in, but also by implementing feeding programmes in poor communities to alleviate hunger. They currently support over 49 projects and have delivered over 1 million meals. 5% of all profits from 'The Classic Capsule' and the 'Lucy' collection go to Breadline Africa.