ARTIST FEATURE: AMY KEEVY // 'PAINTINGS IN OCHRE: GIRL ON THE SHORE'
Posted by KARIN MATTHEE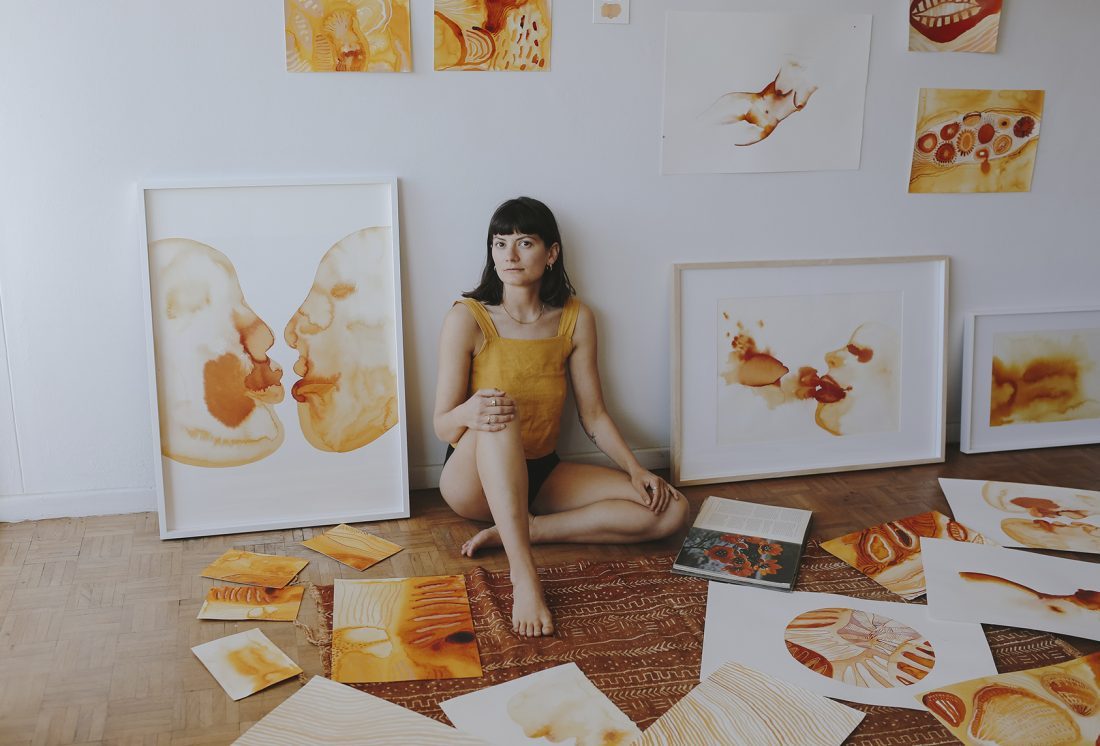 This will undoubtedly come as no surprise, but here at Dear Rae, we love celebrating talented women who inspire us to connect with our inner creativity. This month, we're shining our spotlight on our Brand Curator, Amy Keevy, who is an incredible artist with an impressive and ever-growing body of work. We sat down with Amy to chat about art, curating a jewellery brand and the crossing over of the two. Enjoy.
Tell us about your latest collection and what inspired it.
My new collection 'Paintings in Ochre: Girl on the Shore' examines my connection with the earth and the ways in which my body experiences and moves through space. 
I was incredibly fortunate to spend the first few weeks of lockdown on the West Coast of South Africa. I'm more than a little obsessed with colour; and blush, rust and ochre tones are abundant along this shoreline. The colours on the rocks; the shapes of creatures; the objects observed along the coast; and the many hours spent walking are all elements that influenced this new series of watercolour paintings. 
Using the wide breadth of tones ochre offers: from flesh, blush, and blood to rust, burnt umber, deep gold and sienna, I embrace the unexpected changes wrought by wet ink on paper. Painting has always provided me with a meditative space, and through my experimentation with how water shapes colour, I am constantly exploring notions of self and femininity. 
How does jewellery play a role in your life and art work?
I love adorning myself in jewels. It has always felt to me that the wearing of jewellery is such an ancient ritual. I'm quite a simple girl, and I have a small selection of pieces that I wear daily. I have always marveled at how such small treasures can affect not only one's mood, but prepare you to meet the world each day with confidence.
Creating imagery and creative directing for the Dear Rae brand has also taught me how to see the detail in everything. When you are shooting with such small treasures you have to learn to look at the environment around you differently. What does that texture look like up close? What will that light and shadow create if you place a piece of jewellery into it? 
Is your work at Dear Rae influenced by your art and your own artistic style and journey?
Yes, absolutely – the two influence each other greatly. Over the years, I have found that the more creative and inspired I feel in my personal capacity the more creativity I am able to bring to my work at Dear Rae. And vice versa. If you look carefully at our branding over the years, you will also find a parallel between the colours I have used in my personal work and the work I have created with Dear Rae. Like I mentioned earlier, I am obsessed with colour and this inspiration has definitely blended and crossed over between the two areas in my work. 
I've worked at Dear Rae for almost 8 years now and I'm incredibly grateful that Karin has given me a vast amount of creative freedom. This has enabled me to grow both personally and professionally, giving me confidence to create and to try new things. I love collaborating, and my work with Karin and the Dear Rae team has really shown me the true nature of what that means.
What inspires you as an artist and a creative? 
Light, texture, skin, colour, and above all, Mother Nature. 
Tell us about the Dear Rae pieces you are wearing in your latest shoot and why you chose them?
Firstly: My Dear Rae engagement ring and my commissioned lunar pendant
These two items are my absolute favourite pieces. It's no secret that I love the moon, and I commissioned this Lunar pendant a couple of years ago and have hardly taken it off! My engagement ring is of course an absolute must-wear. It's a hexagon rose cut grey diamond, with 6 claws set in yellow gold.
Secondly: Serpent Chain in yellow gold, the Fold Ring, and the Terrain Ring – all from our 'of Earth' collection. 
Have you seen the yellow gold Serpent Chain? So delicate and yet incredibly comfortable to wear. And so striking. The two rings are my top pics from 'of Earth' – I love the soft feminne form of the Fold Ring, and love the name and shape of the Terrain Ring.
Last, but certainly not least: The Medium Hoops from our Classics Capsule 
I'm a hoops girl – and these are both timeless and bold.
Where to find Amy ~  visit amykeevy.co.za or @amy_keevy.
Photography: @hannnahbeth⁠
Styling and set assistant: @leezbet