How to create the perfectly intimate wedding day
Posted by KARIN MATTHEE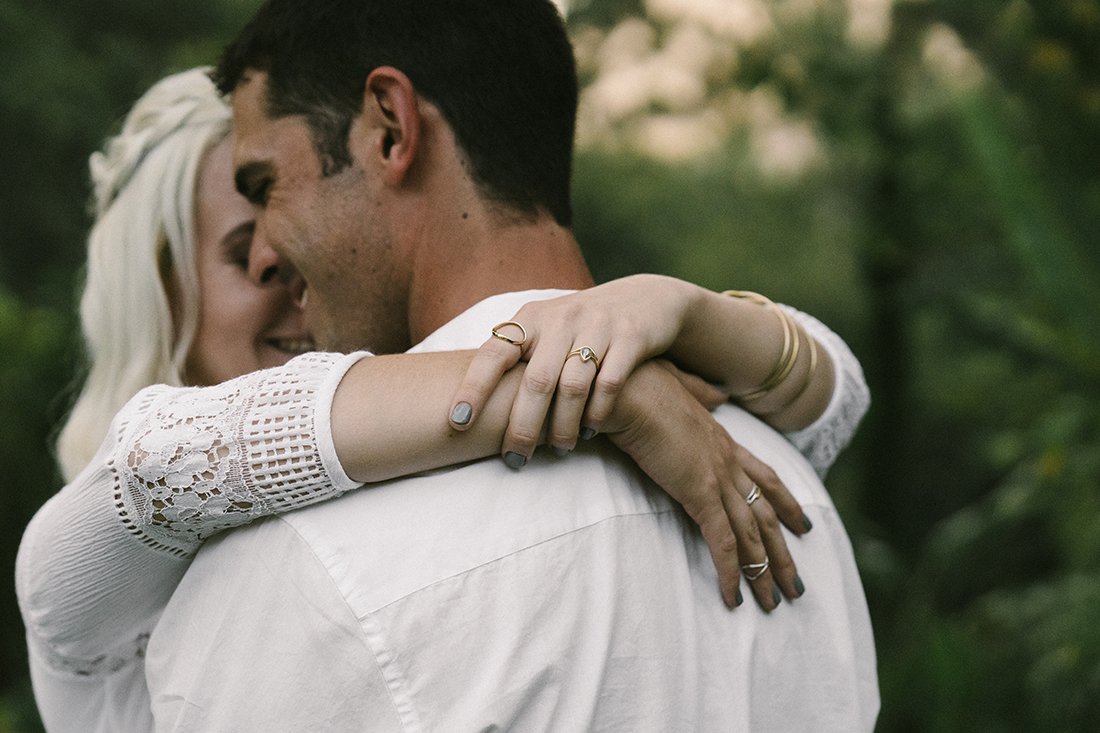 Have you ever noticed how overboard-beside-ourselves-excited we get when one of our nearest gets hitched? Well, it happened again and we're totally swooning over this incredible approach to one's special day. Our dearest Rachel (workshop manager of 5 years) recently had a super low key wedding with only her close family and friends present – A refreshing idea which we love.
Weddings and their planning can often become rather overwhelming. Choosing to keep things small and intimate is a really great way to keep your stress levels to a minimum and your focus on what's truly important.
All images were captured by Love Made Visible who we often work with at Dear Rae. Rebecca is, in fact, Rachel's cousin.
But enough from us, we'll let Rachel tell you more…
I've never been someone who dreamed of a big white wedding. In fact, the thought of having the spotlight on me all day made me feel uncomfortable. This, as well as the fact that my husband works abroad and we have limited time together, made us opt for a very small wedding. We had considered just getting married in the court, but wanted to be able to celebrate our union with our family, and then pour most of our focus into our honeymoon.

 

I found a pretty dress online, borrowed fairy lights and candle holders from some friends, and asked my mom-in-law to source a bunch of succulents (which are now all thriving in my garden ). We ordered 3 delicious cakes for The Velvet Cake Co and that was most of the planing done.

 

We had a total of 28 people attend our wedding. Our ceremony was under the trees of a beautiful, wild garden of a family friend in Constantia. The reception followed at the kitchen of two of our friends who are incredible chefs and offered to host us at their place.

 

Having 28 people made it such a special and intimate event. Our family and friends all helped coordinate and plan the day, and it turned out better then we could have imagined. With a very small budget and the help of our loved ones, we managed to pull together such a memorable evening. Looking back, I wouldn't change a thing.
GETTING MARRIED?
Some tips from Rachel to you:
Don't sweat the small stuff! Don't put too much focus and energy on the small details. Remember what it's all about – marrying your person – and as long as you do that, the day will be perfect.

Utilise the skills of your friends and family who can be immeasurably helpful in getting everything done. My sis did my invites, hair and 

make up

; my cousin took the pictures; my mom made my bouquet; my mom-in-law did the table settings; our Masterchef friend made the most incredible food.

As long as you have good music, delicious food and drinks, and your favourite people around you, you can't go wrong. When you look back on the day, those are the things that will stand out in your memory.

Instead of stressing over this one day, rather plan an incredible, fun, adventurous honeymoon with your newlywed.