#femalestofollow in january
Posted by KARIN MATTHEE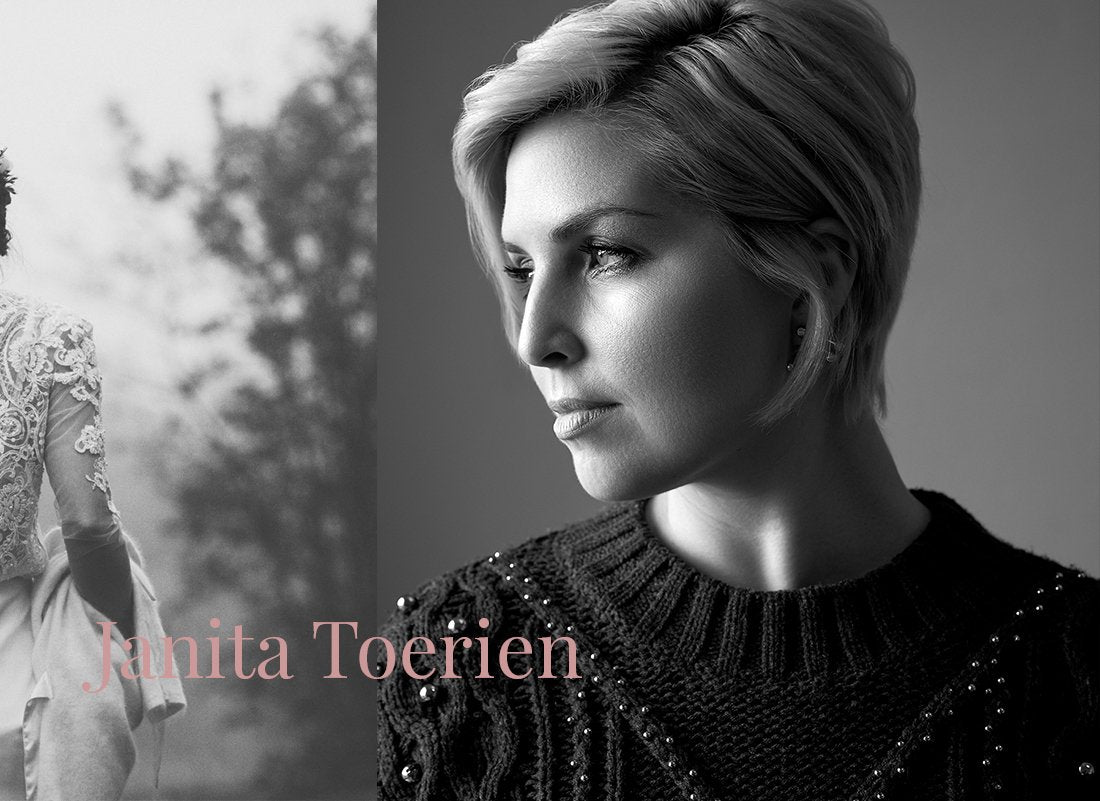 Janita Toerien is even more beautiful in person than she is on her growing Instagram account. She currently runs a highly successful, proudly South African Bridal Couture (janitatoerien.co.za) company in Observatory, placing a strong emphasis on working with local suppliers and seamstresses.
The talented wedding dress designer is quite literally reshaping the industry with her outspoken support for women of all shapes and sizes. With a strong voice for body positivity in the industry, her honest and outspoken blog posts serve as a reminder to all brides that your wedding dress should make you feel beautiful, for you!
Many of our Dear Rae customers have had their dresses made by you. Tell us, what inspired you to become a wedding dress designer?
I cannot think of a particular thing that inspired me to become a wedding dress designer. I have loved evening dresses since forever and I think it was because of Disney movies. Seriously, not a week would go by without my dad having to rent Sleeping Beauty from the video shop. Day after day, I would dress my paper dolls up before going to school, coming back from school and before going to bed. Playing dress up in my gran's dresses and putting on her jewellery was also a daily ritual. So eventually, I think fashion design just came naturally. And during that time I had to do my practical hours which happened to be at a wedding dress designer. I loved the detail that went into it and the idea that you get to work on something really special.
What has been your biggest challenge in starting your own business?
Learning my time's worth and managing cash flow. I was very fortunate that when I started, I was able to work from my parents home for a few years and that saved me an incredible amount of expenses. Learning what my time was worth in actual cents and dollars, however, was tricky. And then there's cash flow… Jeepers! No one tells you that the more money you make and the more you expand, the more expenses there will be and that it could have serious effects on your cash flow – Especially in an industry that is as seasonal as the wedding industry.
What is your holy grail piece of advice for brides-to-be?
The only thing that matters is that you get to make the commitment; the rest is all decorative.
We love your outspoken blog posts about wedding dresses, brides and all the prep. What made you want to write about it?
I think it's the frustration of seeing how these things, whether it be a diet, a rude mother or a clueless bridesmaid can affect the bride and her experience of her wedding journey. I haven't written in a few months now and not for a lack of trying, but rather that every time I want to start writing and I think back on these unnecessary comments or inconsiderate behaviours, my blood pressure rises and I see black… Literally.
Is there a particular dress or collection that you have created that is just hands down your absolute favourite?
Oh my word! This is like asking a parent who their favourite child is! Having said that, I think our 'Antoinette' dress has a very special place in my heart because of the story that led to its design and creation. Then there's the 'Hannah,' which is all custom hand beading and that is just phenomenal to me. Of course, the 'Isa' feather dress stands out because of the grandeur, but then I also love the 'Nikki' dress from 2011, which was so simple and understated. And I love our 'Brigitte' dress because of the glitter and the tiered skirt. I tend to remember dresses more vividly because of the brides that wore them – They make the dress come to life and I absolutely love it when the dress looks like an extension of the person wearing it!
When the going gets tough, what is your go-to self love
 ritual to get yourself back on track?
I LOVE that one saying/picture with the lion in the background that reads "The devil whispers: 'You can't withstand the storm.' The warrior replied: 'I am the storm.' " How cool is that!? I am also an introvert so it is super, super important for me to spend time by myself. I call it hermitting and I'll tell my friends "I'm hermitting this weekend." This generally means doing less than nothing on the couch, watching TV, reading a book or sleeping. I also do pilates which is so important to me as it is the one or two hours a week where I HAVE to concentrate on what my body is doing, how it's feeling and what it's saying to me. It is both a physical stress release where I get to let go of the tension building up in my muscles, as well as a time where my mind cannot focus on work.
All images from:  janitatoerien.co.za