Juno: The Moissanite Collection
Posted by KARIN MATTHEE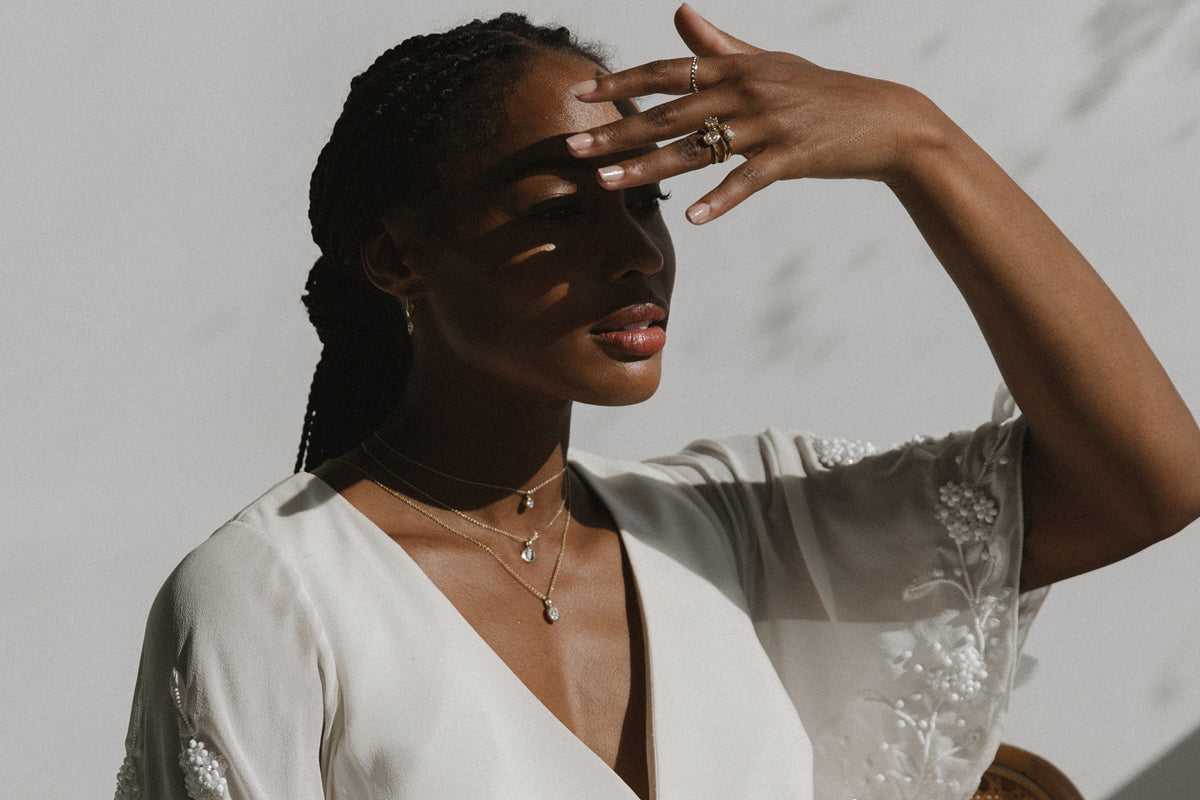 Introducing JUNO: A new collection of Dear Rae treasures celebrating the natural tones of precious metals and the captivating beauty of Moissanite - the stone originally born of falling stars and known as 'gem from the heavens.' 
With Moissanite at the heart of every piece, this range pays homage to JUNO - Queen of the Heavens; Ruler of the Cosmos; Divine Protectress of Community; Goddess of Stars and Sky.
Each of JUNO's jewels - including rings, pendants and earrings - is handcrafted on the premise of versatility, without compromising on beauty and durability. While these stones add an undeniable romance to bridal and occasional jewels, they're also perfectly suited for elegant, everyday wear. 
Moissanites are clear stones with flawless clarity. And at 9.25 on the Mohs Hardness Scale, they are the second hardest gemstones on Earth - surpassed only by diamonds. They also have a refractive index of 2.65 - 2.69, making Moissanite the world's most brilliant gemstone.
INSPIRED BY NATURE. MADE BY SCIENCE.

Moissanites are modern-minded gemstones in that they are unmined and created in a laboratory. To understand why, we must first share its history - which is the story of a stone from space.
FROM METEORITE TO MOISSANITE
Moissanite, colloquially referred to as stardust, is a gemstone that quite literally fell from the sky. It was first discovered in 1893 by a French scientist named Henri Moissan, who found microscopic particles of the gem in Arizona - in a crater created by a meteorite that collided with Earth. He initially thought that he'd discovered diamonds, but later determined that the glittering flecks were composed of silicon carbide.
Today, natural Moissanites are incredibly rare, which is why they are created in laboratories. In a meticulously-controlled environment, the particles are synthesised under a thermal growth process to produce what is now the world's most brilliant gemstone.
MODERN-MINDED JEWELS FOR EVERYDAY WEAR

Rooted in the romance of fallen stars while saluting the innovation of science, this is your new range of modern heirlooms. Handcrafted in solid 9ct yellow, rose and white gold with varying sizes of Moissanite, each piece in the JUNO collection offers accessible, everyday luxury that can be passed down from generation to generation. 
5% of all profits from the JUNO collection will be donated to @julietcrew.
Photography: @ayeh.kphotography⁠⁠
Art Direction: @amy_keevy ⁠⁠
Location and couture gowns: @boandluca⁠⁠
Model: @maeganryan_ and @Khazimla Nxu⁠⁠
Hair and Makeup: @kirstenmurphymakeup⁠⁠
Words: @munnike